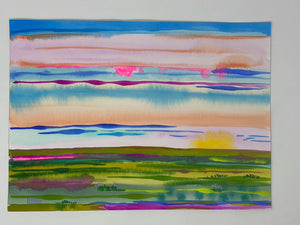 "Plains"- ORIGINAL WORK
I didn't realize the wide open spaces of the American plains until I moved to the East coast. You can literally see the land and sky meet out on the plains. When we came back to Oklahoma for our first visit after moving to DC, my eyes hurt from the open skies. The sun was so hot, and bright. There is a freedom that comes with the expanse. Something so special, and unexplainable. 
I wanted the sky and the land become one in this piece. The setting sun is the only distinguishing factor. Almost like a good night kiss between companions. 
Size: 10'x14' this will need to be custom framed 
Paper: Cold Press watercolor
Media: Holbein Acrylic Gouache
Signed, dated, and named on the back of the image in ink
All painting marks or light blemishes are part of the art. No returns on original art.
Shipping:
The painting will be packed in a sealed clear bag, safe and snug with a thick backing board, and shipped inside a rigid protective envelope.
Proof of mailing with each item is provided. Please allow 10 days to 3 weeks for delivery, depending on your location. Still large delays due to a shipping delay.