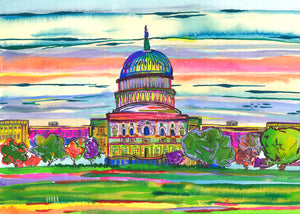 "Capitol in Colors"-ORIGINAL WORK
My family lived in DC through the pandemic, 2020 George Floyd riots and the insurrection. I felt like I couldn't heal from the collective trauma because every few months more tragedy would strike our city. Finally in the summer of 2022, I allowed myself to exhale, and I saw the city reemerge. I take walks around my neighborhood almost everyday, and it usually involves a trip to the U.S. Capitol and Supreme Court buildings. As spring turned to summer, and the stretch of peaceful days became longer, I started seeing in color again. The "Optimistic American" collection emerged during those summer months. The dust seemed to have settled, the city wasn't existing in a post-dystopian novel anymore. Hope had returned. 
Size: 10'x14' this will need to be custom framed 
Paper: Cold Press watercolor
Media: Holbein Acrylic Gouache
Signed, dated, and named on the back of the image in ink
All painting marks or light blemishes are part of the art. No returns on original art.
Shipping:
The painting will be packed in a sealed clear bag, safe and snug with a thick backing board, and shipped inside a rigid protective envelope.
Proof of mailing with each item is provided. Please allow 10 days to 3 weeks for delivery, depending on your location. Still large delays due to a shipping delay.